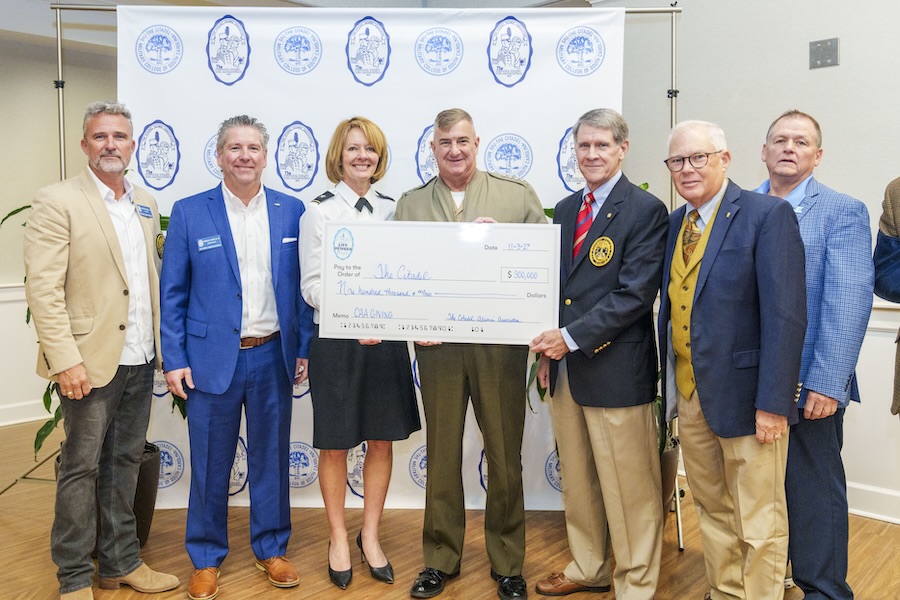 The Citadel Alumni Association capped off a banner year of giving at its annual membership meeting. The Association will contribute $900,000 to support college operations, CAA legacy cadet and need-based scholarships, and enhance The Citadel's Service to Country Tuition Scholarships and National Service Room and Board Scholarships for ROTC cadets.
"I joined the CAA Board of Directors in 2020," said John McAleer, '72, who served Association president during the 2022-2023 academic year. "The Association contributed $250,000 in financial support to the college the prior year. Since then, officers and directors have made a concerted effort to provide significantly more financial support to our alma mater."
By 2023, $800,000 was budgeted to support scholarships and college operations. "Due to the need for additional ROTC scholarship dollars, we were able to increase our financial support for 2023 by an additional $100,000, bringing the total to $900,000," said McAleer, "a new record for CAA financial support to the college and a 450% increase since I joined the board."
McAleer presented the $900,000 check to retired U.S. Marine Corps General Glenn M. Walters, '79, president of the college, at the Association's annual membership meeting on November 3.
"Thank you to all of our Alumni Association members," said McAleer. "If you haven't joined, please consider a lifetime or annual membership. Your membership will contribute to our alma mater's continued success and the Long Gray Line of cadets, active duty, veteran and graduate students."
Norman A. Poole, Jr., '90, assumed the position of president at the November 3 meeting. "The Citadel Alumni Association has a long history of supporting The Citadel, as do our alumni and corporate citizens. As our college depends less on support from the state of South Carolina, our beloved institution has continued to produce principled leaders while not increasing tuition for in-state cadets since 2019. I've spoken with cadets of all ages, and we should be proud of their communication skills and ability to lead future generations," said Poole. "This year, we proudly donate $900,000 to assist with various needs and additional ROTC scholarships. The Citadel has approximately 80 freshman ROTC scholarships, but this year the number is closer to 120, which is incredible. As we look forward, The Citadel is laser-focused on providing a valuable education for future generations."
The Citadel Alumni Association is a private, self-sustaining, non-profit organization that supports, advances, and promotes the ideals and goals of The Citadel, the Military College of South Carolina. The Citadel Office of Financial Aid manages the Association's scholarships. Cadets and prospects who want to learn more about scholarship opportunities are encouraged to reach out directly to that office for additional information.