Your Class of '83 Reunion Committee is happy to announce the plans for our 40th Class Reunion Weekend in November of 2023. The preliminary survey showed there will be close to 200 of our classmates attending. Registration will be open in July, and we will send out communication on how to register. If you plan on attending, please register as soon as you can to allow the committee to ensure it is a great weekend. There is a $45 fee to register for the weekend. The $45 Registration Fee will help defray costs of the reunion. Each Class of 1983 Registrant will also receive one of these magnetic blazer patches, which will be shipped separately from your shirt and vest order from the website. Other events are priced per person.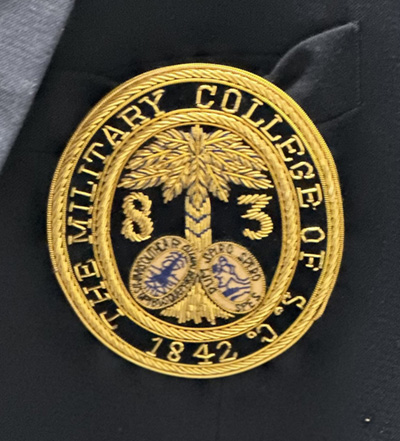 Weekend Schedule
Thursday, November 2, 2023 | 5:00 pm – Until | Mainland Container Company
For those who are coming into town early, the class will hold an unofficial, informal get-together at Mainland Container (1528 Ben Sawyer Blvd, Mount Pleasant, SC 29464) on Thursday evening. This will be a come-as-you-are and pay-as-you-go event. The restaurant's bar and kitchen will be open.
Friday, November 3, 2023 | 6:00 – 10:00 pm | The Citadel Beach Club | $95/person
We have reserved the beach house on Isle of Palms for our 40th Reunion party. There will be seating
and buffet inside and tented seating outside. There will be a bar inside and outside.

MENU – Shrimp and Grits, Baked Chicken Quarters, Roasted Red Potatoes, Mixed Green Salad, cookies & brownies, Water, Iced Tea

BAR – Full Open Bar
Saturday, November 4, 2023 | 11:30 am – 3:30 pm | Bastin Hall Patio | $80/person
Our class tailgate will be under a tent on the patio of the new Bastin Hall, located at the corner of Hagood Ave and Congress St. The food will be served from 11:30 until 1:30, when the class will march on the field. The bar will remain open until 3:30.

MENU – Lowcountry Boil, Pulled Pork BBQ, Mac & Cheese, Mixed Green Salad, Banana Pudding, soft drinks, tea, water.

BAR – Beer and Wine Open Bar
Swag
Swag for the reunion is a la carte and will be shipped directly to you from the third party producing it. You will not pickup these items at the reunion. This will ensure you have your items before the weekend.
Football Tickets
A class block of tickets for Saturday's game is available. The block will be open until October 4. A ticket is required to participate in the pre-game march on.